The Tree Removal Company in Lakewood That You Can Trust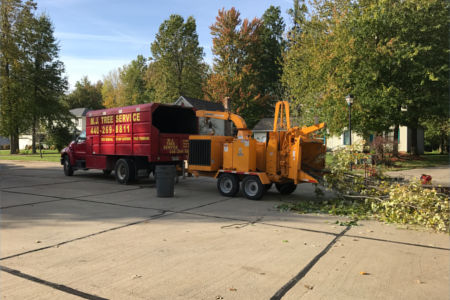 MJ Tree Service is the company to call on when you find yourself in need of a true industry expert. We're a local leading Lakewood tree removal company and have been since first launching the business over two decades ago.
You're going to need a variety of important tree services and we're there to provide them for you. Be it your Lakewood home or your business, we'll be there for you.
Tree removal and related work can be potentially dangerous as well as be a risk to your personal property. Don't take chances by attempting to DIY the work or hire an inferior tree care company.
Learning More About Crane Service
We're proud to boast the best Lakewood crane service and here's some of what you should know about that:
We're proud to introduce the latest in mechanical tree removal to the North East Ohio area. This remote-controlled tree removal system is safe, reliable and cost effective.
We use a 2019 Palfinger high-performance crane that has a saw at the end of the grapple that enables our technician to cut down a tree, safely from the ground with the use of a remote control. This enables us to access tight spots that are otherwise unattainable.
Safety and reducing the risk involved with damaging property is obviously our main focus. The innovative equipment we use is instrumental in helping us achieve this.
You can also feel confident knowing we're fully insured which helps keep you protected in the event that something should happen.
Finding the Best Service
Let us take care of the work you need done so you can rest assured you get the best results. There's no reason to settle for less than the superior workmanship and results you deserve.
We're the only Lakewood tree removal company you need to know so give us a call today.