Tree Trimming In Northeast Ohio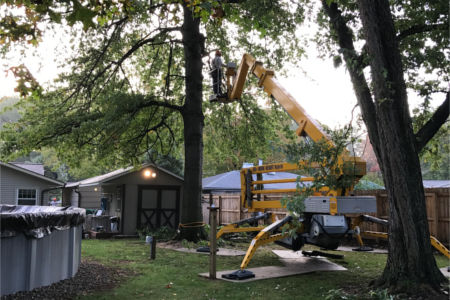 MJ Tree Service is the only company you need to know when it comes to tree trimming in the Mayfield area. This should be done on a regular basis and carried out by trained and experienced tree trimming experts.
To ensure that you get the best results from a local tree service company, you'll want to work with a local leading service provider. The quality of workmanship and customer care we provide is unsurpassed.
We've been around taking care of residential and commercial customers now for over 20 years now. Let us show you what a difference it makes to get high-quality workmanship from true industry experts who care.
Benefits of Tree Trimming Services
For whatever reason you need tree trimming tree services, there are plenty of benefits:
Properly planned and executed trimming can help promote tree health. This enables you to remove dead, dying, diseased, or otherwise compromised limbs or branches. It's similar to cutting dead ends off hair which encourages healthy growth.
One of the best things you can do to protect your home, especially your roof, is keep your trees trimmed back. Growing limbs can tear at your roofing and branches that extend over your roof pose a threat of falling during a storm. It can even just lead to less severe but still problematic issues, like damage to power lines.
Aside from possible property damage, you also have to worry about personal injury. Cracked or damaged branches can fall at any given moment, without warning. Although riskier during inclement weather, it can happen out of nowhere and that leaves people and pets below at risk of being harmed.
Nothing good can come from leaving your trees neglected but there are plenty of advantages to taking care of your trees. Make it a point to call us today for all of your Mayfield tree trimming service needs.