Your Mentor Tree Service Pros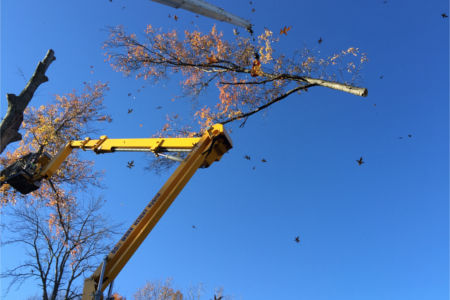 If any of the trees about your Mentor area home need any work of any kind, you need to call up the local tree service company, MJ Tree Service. Whether you need an old tree removed or a healthy tree maintained, you can count on us to provide the work you need thanks to the many great services we offer.
Among these services are tree removal and stump grinding work. These services are essential when you have a problematic tree that needs tending to. We'll work quickly yet carefully to get any unwanted trees thoroughly removed from your property, and in no time, your home will look great and be safer for you and your loved ones.
Of course, we do more than simply remove unwanted trees from your Mentor property. We can also maintain your healthy trees thanks to our winter tree care. We'll make sure that your trees will not only survive but also thrive throughout even the harshest winters, helping to keep them alive and strong for many years to come.
Quick, Safe Tree Removal Work
Over time, even the best-maintained trees run the risk of wearing away because of the weather, insects, or just the ageing process. No matter what may have left one of your trees in this kind of condition, one thing is certain: You're going to want to get that tree removed as quickly as you can since it will be both an eyesore and a danger.
For the quickest and safest tree removal, call our experienced pros. We work efficiently to get worn-out trees removed from your Mentor home, yet we don't cut corners where safety is concerned. So, with our removal service, any problematic trees will be rendered a non-problem in no time at all.
Quality Stump Grinding Services in Mentor
The trouble isn't over just because your unwanted tree was cut down. After all, there will still be the matter of the stump to tend to. While a stump may not pose the magnitude of dangers that a decaying tree does, it is still nothing to take lightly, as it can pose a number of problems itself:
A stump can attract wood-boring insects to your yard
A stump is a trip hazard for playful little ones
A stump can drive down your home's curb appeal
A stump can lower your home's resale value
If you've had a tree removed, you need to go the extra mile to get its stump removed, too, so that you can avoid all of these problems. For a quick and complete stump removal, give our experts a call. With a stump grinding, we'll have it and its problems removed in little time, helping you to enjoy the safest and most beautiful home once more.
Ask about Our Winter Tree Care
So, you've noted a problematic tree or two on your property, you've called us, and we've removed the problems (including their stumps). You're all done with our help, right? Not right -- not if you want to keep your other trees from succumbing to the same fate.
To ensure that your otherwise healthy trees remain healthy for years to come, you need to call out about our tree maintenance services. One such service is our winter tree care. With this care, we'll make sure that your Mentor home always sports stunning trees, even after the most intensely cold winter months.