Tree Removal In Northeast Ohio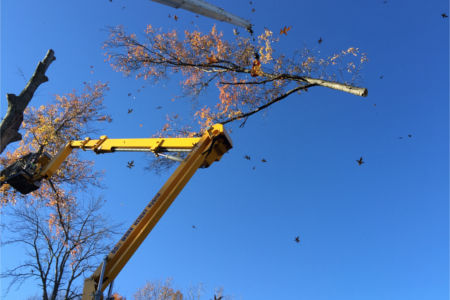 When you need tree removal service in the North East Ohio area, give our pros a call. The MJ Tree Service team is dedicated to providing high-quality service for the customers we work with.
Sometimes just tree trimming is not enough and you'll need expert tree removal services. Hire us for all of your tree service company.
There are a number of reasons you may need this type of work done. What matters the most is that you have the right team to take care of the job for you.
Benefits of Professional Tree Removal Service
Whether it's poor health or necessity for some other reason, at some point you're going to need tree removal services.
Trees with dead or dying limbs pose a threat to your property, neighboring property, and anyone on either of those properties. Your tree expert should be able to help you determine if you just need trimming or complete removal.
It's normal to desire large healthy trees on your land. Unfortunately, as trees grow their roots can cause serious damage to walkways, driveways, your sewer system, even the foundation of your home. So, it's vital to take care of this in a prompt and professional manner.
Although trees make the panorama more enjoyable, sometimes they can also block that view. Clear away trees that may be blocking your view and get back to enjoying the scenery.
Maybe you're adding an element to your property, such as a pool, shed, or an addition to your home. You'll need an expert to take care of carefully removing one or more trees to clear the area and prepare the space for whatever add-on you wish to incorporate.
Since 1996, our team has been taking care of residential and commercial customers. We'll be there for all of your Eastlake tree removal service needs, so call us today.