Stump Grinding In Northeast Ohio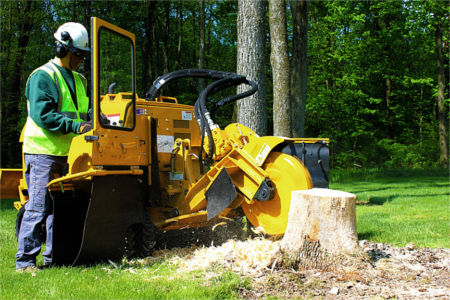 MJ Tree Service is the company to contact when you're in need of Eastlake tree services, like stump grinding. We encourage this process because it's more beneficial to the homeowner than leaving the stump in place.
It takes a professional tree service company should handle this job for you and we'll provide you with exceptional results. You may have a tree that died or one you had to cut down, either way the end result is the remaining stump.
Keep your commercial or residential property free from this type of debris by letting us take care of your stump grinding. You're going to love the final results we're able to provide for you.
Benefits of Stump Grinding
If you're still considering stump grinding but haven't yet scheduled the service, think about the benefits:
Stumps can regrow and that just makes it an ongoing problem.
It's much more environmentally sound than trying to use harsh chemicals to kill the stump.
The remaining stump is still prone to disease.
Critters may still end up making your stump their home.
It's safer not to have this debris in the way.
It's easier to take care of lawn care without this in the way.
You'll have a clear path be it for walking, enjoying the view, or to gain access to parts of your property for equipment or machinery.
The bottom line is that there are plenty of good reasons to remove the stump and not a single good reason to keep it.
Getting Expert Service
By hiring us to address your need for this type of work, you can rest assured the results will be topnotch. We look forward to partnering with you so that you can get the exceptional results you deserve.
For superior results for your Eastlake stump grinding project, get in touch with us right now.