Crane Services In Northeast Ohio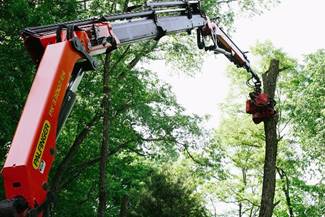 MJ Tree Service has been in business and offering crane services for North East Ohio area customers since 1996. Yet the way in which we handle this type of service has changed drastically over the years. We're the premier choice for professional tree service including crane services. We use the latest in innovative techniques and equipment to get the job done in a safe but effective manner.
We take this line of work seriously which is how we take care of even the most challenging jobs without causing damage to nearby trees or property. Find out more about how our process provides you with the level of quality results you deserve.
The Palfinger Crane Advantage
At MJ Tree Service, we use a 2019 remote controlled Palfinger Crane. It's a top-of-the-line, high-performance crane.
When it comes to crane services, you'll appreciate the benefits of the Palfinger:
This crane has a saw at the end of the grapple that allows our technician to cut down a tree, while standing on the ground, using a remote. The safety element is unequivocal and it gets us into tight spaces that normally are unattainable.
We are proud to introduce the latest in mechanical tree removal to the North East Ohio area. This remote-controlled tree removal system is safe, reliable and cost-effective.
MJ Tree Service is fully insured. Call us today for your pruning and tree removal needs.
Simply put, the Palfinger name is synonymous with excellence when it comes to this type of equipment. Call us and let us provide you with the superior workmanship and results for your Gates Mill crane services.