Your Trusted Tree Care Company in Novelty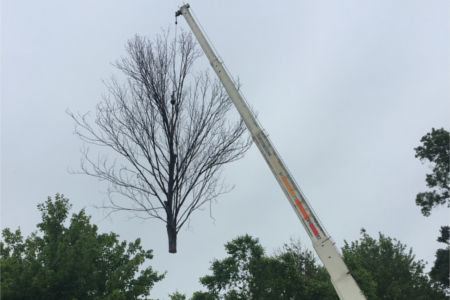 Are you in need of quality tree care for your home in the Novelty area? If so, you need to look to the local tree service company, MJ Tree Service. We offer a line of services that will keep your trees looking great and standing strong for many years to come. These services range from tree maintenance all the way to tree removal.
Whatever service you need, you can depend on us to provide high-quality work that will keep your yard looking great. By removing old, decaying trees, we can ensure that your property isn't blighted by decaying plant life. More than that, we can keep your home life safe by removing a tree that otherwise poses the risk of falling.
On top of all of that, our Novelty tree experts offer winter tree care services. With these services, we'll make sure your trees can get through the cold months as safely as can be. They will greet the spring as healthy and strong as ever, ensuring that you will enjoy beautiful, dependable trees for many years to come.
Call Us When You Need a Tree Removed
Over time, your trees can suffer from all manners of problems. Termites and woodpeckers can wear away at them, and the constant exposure to the elements can also wear them down. In time, your trees can be reduced to unsightly husks that pose a number of problems for your Novelty home:
They decrease your resale value
They make your home look bad
They are dangerous since they could fall over
If you have an unwanted tree that's causing all of these problems for you, you need to give us a call. We provide quick and safe tree removal work that will rid you of this problem in little time at all. Your home will look better, and most of all, it will be as safe as can be thanks to our tree removal work.
Complete Stump Grinding Work in Novelty
Nothing brings down the overall look of your yard quite as badly as an old tree stump can. Worse still, a tree stump can present all manners of problems for your home. For one thing, a stump can attract wood-boring insects to your property. For another, they are often hard to spot, making them a dangerous tripping hazard.
Does your home contain an unsightly and unsafe old tree stump? If it does, you need to get ahold of our tree care team for a stump grinding. With this service, we can quickly and completely remove unwanted stumps from your yard, helping to make it look great while keeping your home as safe as can be.
Top-Rated Winter Tree Care
Our tree care services go beyond simply removing unwanted trees and stumps from your Novelty home's yard. It also extends to tree upkeep and protection, of course. One example of this kind of work is our winter tree care, a service which will help your trees get through the cold months safely.
With winter tree care, your trees will greet the springtime beautifully and healthfully. This service will extend your trees' lifespan, saving you money on emergency tree services. When the winter months begin approaching, don't hesitate to call us for our winter tree care.