Top-Rated Tree Care Services in Willoughby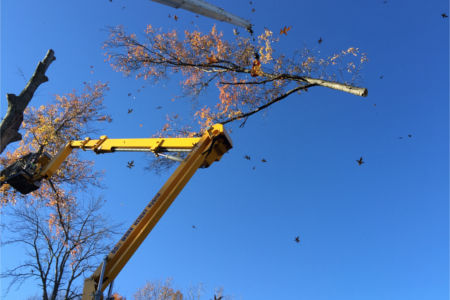 Quality tree care can be hard to find -- unless you live in the Willoughby area. Should you live here, finding that quality of care will be as easy as calling the local tree care company, MJ Tree Service. We offer a line of quality services that will ensure your home always sports the healthiest and most beautiful trees:
Removal of dead trees and stumps
General tree upkeep
Winter tree care
Though you may give your trees the best quality of care that you possibly can, you can expect some of them to succumb to age and wear at some point. When that point comes for any of your trees, you can count on us to get them removed in no time with our tree removal service. Your home will be more beautiful and safer in little time at all.
You can also count on us to keep your Willoughby home's otherwise healthy trees in excellent condition when the temperatures drop thanks to our winter tree care. We will prepare your trees to be able to endure the cold months, ensuring that they will re-emerge every spring as healthy and beautiful as ever.
Quality Tree Removal Work in Willoughby
When you find your yard plagued by an old, dying or dead tree, you need to take steps to get it removed as quickly as you are able to. Otherwise, you're just exposing yourself to an extremely dangerous home life, as a tree in such a condition poses a serious risk of falling over.
If your Willoughby property contains a tree that you need removed ASAP, you need to give our team of experts a call for a professional tree removal. With a tree removal, we will quickly yet safely remove any unwanted trees from your yard, ensuring that it will be as beautiful as can be once more.
Call Us to Get Unwanted Tree Stumps Ground Away
Though a tree stump may not be as dramatically dangerous as a tree itself can be, you'll still want to go ahead and get rid of any stumps present on your property. After all, a stump can present a slew of problems for you -- problems such as . . .
Decreased property value
Lowered curb appeal
Higher chance of termite infestation
To avoid these problems, you need to act quickly to rid yourself of an offending tree stump. To do that, you simply need to call for our stump grinding work. We'll completely remove a stump from your yard, allowing you to enjoy the safest and most beautiful yard once more.
We'll Maintain Your Trees with Winter Tree Care
When winter approaches, you need to do whatever you can to ensure that your trees are protected against the ice, wind, and low temps. While the job may seem impossibly large for you to handle, you needn't stress yourself. Instead, you need to call our Willoughby tree care pros.
We offer winter tree care that will help your trees get through even the harshest winter as safely as possible. This service will help your trees enjoy the longest and healthiest lifespan, ensuring that they will be around for you to enjoy for years to come.