Newbury's Dependable Tree Service Company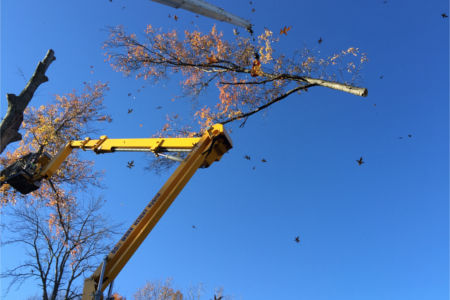 When you need quality tree care in the Newbury area, you need to look to none other than MJ Tree Service. Our tree care professionals have the experience and the training to provide high-quality work to keep your trees in the best possible condition, no matter what kind of work you may need:
A tree removal
A stump grinding
General tree maintenance
Your trees are an important part of your landscaping. They help to keep your yard protected while also helping to maintain its curb appeal and resale value. While healthy trees can help to keep those qualities, old, decaying ones can take away from them. For this reason, our tree removal services are vital for the good of your home.
Of course, when it comes to keeping your trees healthy and beautiful, you need to take extra precautions during the colder months. Fortunately, the best and most efficient precaution available to you is our winter tree care. With this service, we'll keep your Newbury home's trees safe and protected through the winter, helping them to thrive all year long.
Need Any Trees Gone? Then Call Us for a Tree Removal
Unhealthy trees are more than just unsightly: They are also dangerous. After all, trees in such condition pose a serious threat of collapsing during particularly harsh weather. Should a tree on your property fall over, it could very well fall onto your home, causing thousands in damages and posing a serious threat to anyone nearby.
If your Newbury home contains problematic trees, you need to call for our quick and safe tree removal service. We'll rid your property of unhealthy and dangerous trees, ensuring that your home looks its best and is once more as safe as can be.
Complete Stump Removals from Our Newbury Experts
Once you get an unwanted tree removed, you'll still have another problem to address: the tree stump. While you may be unconcerned about a stump, you still need to take action to have it removed since stumps do present a number of problems all their own:
They can attract wood-boring insects to your property
They are a tripping hazard
They bring down your home's curb appeal and resale value
When you find yourself saddled with a tree stump, you need to give our experts a call. With our stump grinding service, we'll rid you of unwanted stumps quickly and completely. In no time, your home will look better and be as safe as can be, guaranteed.
Quality Winter Tree Care in Newbury
Once we've removed unwanted trees and tree stumps from your Newbury home, you can get back to focusing on caring for the trees you want to keep around. Of course, we can help with that thanks to our other great services, one of which is winter tree care.
With winter tree care, we'll make sure your trees get safely through the cold months. This preparation will pay off when your trees greet the springtime as healthy and as beautiful as ever. With our winter tree care, your trees will look their best and they will enjoy a very long lifespan.