Experienced Tree Service Experts in Wickliffe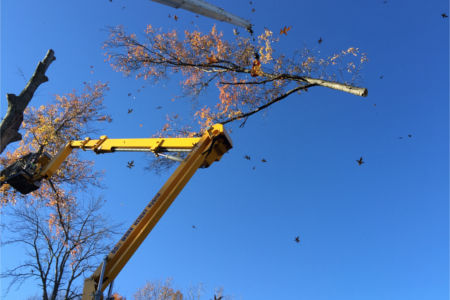 To maintain your Wickliffe home's curb appeal and resale value, you need to make sure its landscaping features are beautiful and healthy. Since some of the largest of those features are your trees, a tree care professional will prove to be an excellent resource for maintaining those qualities.
If you're in the market for a tree care company you can depend on, look no further than MJ Tree Service. We offer a variety of top-rated tree care services that will help your home look great and retain its value. One such service is our tree removal, which will quickly and safely rid your home of unsightly dead or dying trees.
Another such service is our winter tree care. This preventative service will help prevent the need for tree removals, as it will help keep your trees safe and healthy through the colder months. Whether you need to have an unwanted tree removed or one you want to keep around healthy, you can depend on our Wickliffe professionals to provide the work you need.
Your Wickliffe Tree Removal Pros
Nothing brings out the beauty of your home quite like a lush, healthy tree can. On the flipside, nothing brings DOWN the beauty of your Wickliffe home quite like an unhealthy, dying tree can. When you find yourself saddled with a tree that's beyond saving, you need to act quickly to get it removed. After all, such a tree can present a number of problems:
It can lower your property value
It can ruin your curb appeal
It could fall over, making it a danger
When it comes to removing unwanted old trees from your property, your quickest and safest best is to call us for a tree removal. We'll work quickly yet carefully to get any problematic tree removed from your property so that you can get back to enjoying a safe, beautiful home once more.
Complete Stump Grinding in Wickliffe
Well -- you'll be close to enjoying a safe, beautiful home once more. After all, once a tree has been downed, you'll still have another problem to consider: the tree stump. While a stump may not present the magnitude of problems that a dying tree can, it could be a pretty major problem if it were to attract termites to your property.
Before you find yourself paying for termite treatments and repairs, you need to pay us for a stump grinding. With a stump grinding, we'll quickly and thoroughly remove these offending growths from your yard, helping it to be as beautiful and safe as can be.
Call Us for Your Winter Tree Care Needs
Now that you've handled the matter of removing the trees you don't want on your property, there's still the matter of maintaining the ones you do want. Unfortunately, as winter approaches, you may find that to be something of an uphill battle as you work against the intense colds.
Fortunately, though, that job doesn't have to be a hassle for you whatsoever. After all, you can always call for our winter tree care. With this service, we'll make sure your trees are well protected and ready to endure even the coldest winter as safely as possible.